I nicked this from the Guardian; as with all heroes the 'off duty' moments are by far the most interesting!


Leslie Howard personal film footage found by documentary-maker
Gone with the Wind star shown in private moments including being an affectionate father and flirting with actress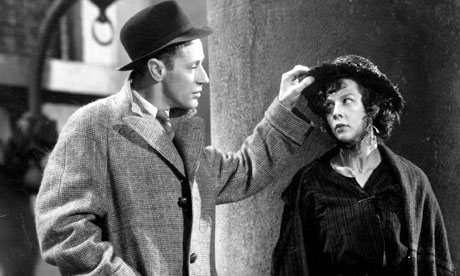 A British
documentary
-maker has discovered several hours of lost personal film footage of Leslie Howard, one of Britain's most revered actors and a matinee idol.
The legendary star of classic films such as Gone with the Wind, The Scarlet Pimpernel and Pygmalion in the 1930s and 1940s can be seen for the first time in five hours of home movies, described yesterday by one historian as "a treasure chest".
Howard, whose life was cut short when his plane was shot down in the second world war, is remembered as enigmatic and distant, partly due to his most famous role as Ashley Wilkes, the southern gentleman who resists Vivien Leigh in Gone with the Wind.
Now the discovery of his movies, made from the 1920s onwards, shows him in a new light – on film sets, flirting with actresses, goofing around with actors and dancing the soft-shoe shuffle. There are also tender, more private scenes, reflecting an affectionate father, whose two children brought out the child in him, clowning around in a swimming pool or on a sledge.
The reels, both colour and black and white, have been saved following their discovery by Tom Hamilton, who was making a documentary on Howard. The star's 82-year-old daughter, Leslie Ruth Howard (known as Doodie), had kept them in her basement since 1979, not realising that some of the reels had decomposed.
Hamilton recalled opening a case: "A sight and smell to chill the heart … pungent and vinegary – never a good sign when dealing with film."
He then spotted another box, which was filled with canisters in perfect condition. "I uttered a silent 'thank you' to a benevolent God of film," he said. "As the first images appeared, I was startled by the visual quality, razor sharp with barely a scratch."
A married Howard can be seen on the set of Animal Kingdom, flirting openly with Myrna Loy, with whom he is believed to have had an affair. The mock romantic scenes with another leading actress, Norma Shearer, hint at further infidelities.
Hamilton said: "You get a sense of the real human being. He's quite playful and warm in a way you don't see in his films."
The footage includes a gathering on William Randolph Hearst's estate, where Joan Crawford and Douglas Fairbanks Jr play with a large dog, and a polo match watched by Hollywood stars Cary Grant, Gary Cooper and Mary Pickford.
Hamilton showed the material to Kevin Brownlow, the film historian, who told the Guardian: "It is extraordinary … a treasure chest."
Hamilton also tracked down Derek Partridge, who, as a seven-year-old boy, gave up his seat to Howard on a passenger plane from Lisbon to Bristol on 1 June 1943. The plane was then attacked by the Luftwaffe and all 13 passengers were killed. Howard had been booked to fly later that day, but was anxious to get back. As a VIP for the war effort, he had priority and the boy was taken off.
Among numerous conspiracy theories over his death, some have suggested that the Nazis thought Winston Churchill was on board. Others believe that Howard was working with British intelligence. He certainly played an important role in the war, with his weekly radio broadcasts and films such as Pimpernel Smith and The First of the Few, a tribute to the Spitfire. The Nazi propaganda broadcaster Lord Haw-Haw claimed on the programme Germany Calling that Howard was on a Nazi death list.
Hamilton's documentary includes the reminiscences of Howard's daughter. She recalls her mother's devotion to him, despite his affairs, his loathing for Gone with the Wind, and mutual irritation with Vivien Leigh over their line fluency. He hated that he had been made to wear make-up to look younger, and refused to attend its 1940 British premiere because he objected to the high ticket prices in war-time.
Hamilton also discovered that Howard gave up his profit share in Gone with the Wind to return to England in 1939, rather than remain in America.
The 90-minute documentary, The Man Who Gave a Damn, has been made in collaboration with Warner Bros and Howard's great-grandson, Alex Kiehl.
• This article was amended on 13 September 2010. The original referred to Leslie Howard's role in the war as inlcuding the film Pimpernel Smith, a tribute to Spitfire pilots. This has been corrected.